There's multiple camera types for different types of photographers. The premium compact is usually targetted at advanced amateurs or pros who want to leave their gear behind. The Canon Gs are extremely popular in this category, here's my review of the Nikon P7800, the latest model that aims to answer the Canon Gs.
Introduction
I didn't know what to expect out of the Nikon P7800, I've never had a compact Nikon before and my Nikon days were way back then. But this camera not only won me over, it also has a very nice trump card attached to it if you like black and white images.

Review Policy
The camera I had was graciously supplied by B&H but I am free to express my opinions of the camera, yes they are THAT awesome. I always get my stuff from them and always was please. When get a camera to review, I make my best to help you understand how it feels to use the camera. I make it mine for the duration of the review, meaning I process the images my way, with more straight full size samples provided for you to judge for yourself the image capabilities of the camera. Cool beans? Let's dig in…
Nikon p7800 review
Ergonomics
The Nikon p7800 is a larger 1/1.7 inch camera, check it out compared to another camera of the same sensor size:
That's the Ricoh GRD IV, actually that's MY Ricoh GRD IV….it's been used a lot :). It's a pocket camera while the p7800 isn't, except if you have baggy pants. That's ok tough, the handling is great because you have a nice grip on the camera and changing settings is easy with the dials.
I usually break a sweat when I don't have a strap on a compact camera but I didn't feel like I needed one with the Nikon. It passes the grip test.
There's two well placed dials to change settings depending on the mode you are in. There's a little issue tough. Normally I only need to pick up the camera to figure out how to change the basic settings like Aperture, Shutter Speed and ISO. The first two, I had no problem with, they are the two dials.
But for ISO….I believed it was the wheel in the back that doubles as the directional pad, but no. I checked the settings for the function button near the shutter release but no….As it turns out, it's the function button near the bottom of lens.
That'a shame because the best option is simply the wheel on the back. The function button in the front is just too oddly placed. Why, Nikon, WHHHY? Granted you can ppress the quick function button to change it (located near the viefinder) but it takes over the screen completely.
The second funtion button whitch is near the shutter release button cannot be changed to ISO but to stuff like grids and Horizon level. Besides a bad place to put an ISO button, the camera is pretty nice, feels great and has a nice thumbrest in the back.
The screen, and it's a gorgeous screen that is both crisp and bright can't flip down or up, but it can open to one side first and the twist up or down. Long story short, it's a selfie camera, or a wifey-and-me camera:
What's cool is that you can flip the screen completely and have the plastic on the outside. It not only protects the screen but also allows for no screen interaction with the camera.
The viewfinder
The Nikon p7800 is one of those few compact cameras with an electronic viewfinder, even if nowadays it's starting to be expected. There is no eye sensor so you have to press a button, but it's pretty usable, better than the LF1's and it does the job well. Unlike the G series, the viewfinder is an electronic one.
The lens
The lens goes from 28mm to 200mm, it's an f/2 lens on the wide end and f4 on the telephoto end. Here's what it means:
There is a cap to worry about so if you get this camera get a cap that allows the lens to extend. If you lose the cap, when the camera is off the lens itself does not protude so it diminishes the chance of it getting scratched. Lastly, It might look like it but you can't twist the lens. The front ring unscrews so that you can put in attachment lenses.
Image Quality
The image quality is great, what else do you want me to say? Here's some images at different ISOs:
I have prepared some full size JPG and full size raw images for you to download:
Click here to download a bunch of RAW images (about 85mb)
Click here to download a bunch of JPG images (about 26mb)
Macro
The p7800 has a very fine macro mode, you are able to come VERY close in the wide angle end. Here's some images:

Like I said it's pretty good. On to the amazing BW mode of the P7800….
That monochrome mode
When I picked up the camera, I didn't expect to be surprised. Barely 5 minutes playing with it, I found myself turning the mode dial and stumbled on monochrome mode. Those are usually hald baked and rushed, so I didn't expect much at all.
I pressed the shutter release and I was floored with what I saw on the screen. It was a deep, rich black and white image. It was so beautiful I didn't want to do anything, I just wanted to look at the world trough the black and white screen. Scotch tape it to my eyes is what I wanted to do actually!
Simply put, it's the best straight out of camera black and whites I have ever seen, and I make presets for a living! The images in that mode are so wonderful, I hated putting the camera off it to shot some straight stuff or the review. It's amazing. But let it be known, it's JPG only. It's so beautiful tough, I wouldn't mind giving up RAW.
In a nutshell, the monochrome mode is instant Dido Moriama-ish images. But the cool part is that you have a certain degree of control thanks to the two dials. Here's the possibilities:
The front dial lets you control the amount of grain or turn it off, the back dial lets you control the amount of contrast, with one setting giving you a Solarisation (Or sabbatier effect). Man Ray would drool! Here's a sample shot:
But not everything is rosy tough, like I said you are stuck with JPG , and you can't control ISO, Aperture our shutter speed, making night stuff a bit tricky. The upside is that the Exposure compensation works with that mode, that's a good thing especially in the highest setting of contrast, I usually have it underexposed at -1.
The monochrome mode is nothing short of mesmerizing. I became like a kid again just enjoying making pictures of everything, flowers included just to see how things are going to turn out. If you are into high contrast black and whites, this camera can pretty much streamline your workflow. Actually I made all the images in this post (except the samples and test) with that mode, I didn't touch any of them. It's all out of camera!
It's the first time I feel comfortable showing straight out of camera JPGs. And I am a RAW guy! You can call this mode Daido Moriama mode, heck he was seen with a Nikon compact…it's probably because of this mode. Makes sense, it's an amazing mode that is hard to let go of.
The other modes

But wait, there's more! The Nikon also has other "creative" modes that fell way short of the awesomeness of the monochrome mode. There's sepia, zoom effect, defocus, soft, sepia, high key, low key and selective color. There's even a painting mode, but it's more like an HDR-ish effect. There's some degree of control too, but not as much as the monochrome mode, the cross process effect for example you can chose what type. But the modes are nothing compared to what the monochrome will be able to give you.
Nikon p7800 Street Photography settings
For those interested in Street Photography, the camera has a wide angle lens, and it has somewhat of a focusing scale.
It's pretty vague because there's just an infinity icon (far) and a flower icon (close). But, but…what's this? It says 1 meter! YES! The guys at Nikon gave you the distance you most likely needed for street! Based on the Ricoh GRD IV (same sensor) your hyperfocal settings at 28mm is 1 meter at 5.6. So you can just focus on that 1 meter at 28mm, put your camera on 5.6 and you are good from half a meter to infinity.
For other settings at different focal lenghts, check out depth of field master.
Conclusion
There's a purity and simplicity to the monochrome mode that I wish every camera had. It just simplifies the whole process of photography.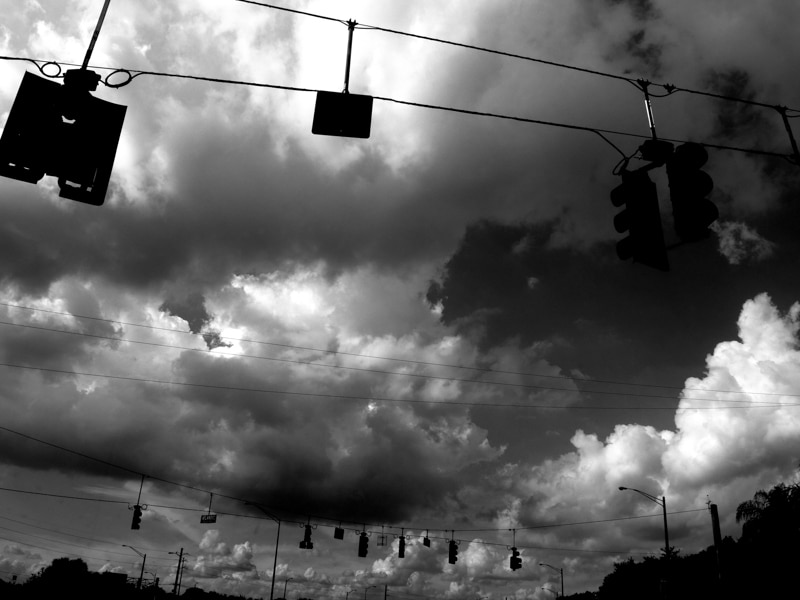 If you are into Black and Whites, especially the contrasty ones, this camera is stunning. For everyone else, the camera holds it's own with good image quality, great handling and fast manual operation. You can see more images made with the camera here. Be yourself, stay focused and keep on shooting.
Where to get it
P.S: If you are new to photography, take the free photography course to get you up to speed with the camera after you buy it
About the author
[userpro template=card user=f8admin]